49 detainees dead after Mexico Topo Chico prison riot
Comments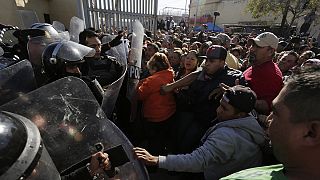 Angry relatives gathered outside Mexico's Topo Chico prison, notorious for its violence, after 49 detainees died during a deadly riot inside the facility on Thursday (February 11).
The governor read the names of 40 confirmed victims. She told reporters five other bodies had been charred by fire.
Officials posted the names of the dead outside the prison gates as they were identified, while some family members desperate for news called out the names of their loved ones.
"Please help us!," screamed one woman, her voice cracking with emotion. "The governor, with all due respect, come out and face us. Give us the names! Please, the names. That's it! Where is she?"
The Topo Chico incident is the latest in a series of deadly prison riots in recent years, many sparked by brawls between rival crime gangs.
Pope Francis in Mexico
The Topo Chico riot comes just days ahead of a planned visit by the pope to another jail in Mexico's Ciudad Juarez, one of the world's most violent cities.
"Welcome Pope" reads a mural in #CDMX anticipating #PopeFrancis' upcoming visit to #Mexico. (Getty) pic.twitter.com/V6gjpBKVst

— reported.ly (@reportedly) February 6, 2016