Portugal overturns presidential veto on gay adoption
Comments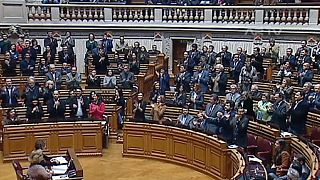 Portugal's parliament has overturned a presidential veto on a bill legalising adoption by same-sex couples. The motion was supported by the ruling Socialists and their far-Left allies. Conservative President Anibal Cavaco Silva will have to sign the bill allowing same sex adoption into law before his term ends in March.
The president last month vetoed the gay adoption bill on the grounds that parliament passed it in November without having promoted a wide-enough national debate and citing doubts that it would promote the wellbeing of children.
His refusal provoked sharp criticism from human rights groups and politicians alike.
Under the constitution he now has eight days to sing the bill into law.