NBA: Atlanta pile on the misery for struggling Chicago Bulls
Comments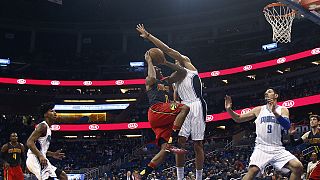 The Chicago Bulls continued their struggles in the NBA regular season after losing to the Atlanta Hawks for the team's fourth straight defeat and 13th loss from 18 games.
It was neck and neck in the first quarter with Bulls centre Pau Gasol hitting a hook shot to send his team into the second a point up.
Atlanta kicked into gear in the second and thanks to an inspired Al Horford the visitors were leading by five points at half time.
Atlanta then broke the game open in third and didn't look back.
Gasol finished with 20 points and Doug McDermott scored 17 for the Bulls but in general it was a sloppy performance and the struggling six-times NBA champions couldn't stop the leak as Atlanta went on to enjoy a comfortable 113-90 victory.
Dennis Schroder hit a team-high 18 points for the Hawks, who head into the All-Star break with a win after back-to-back losses to Orlando.