Ghana's president threatens to 'commit murder' against child marriage
Comments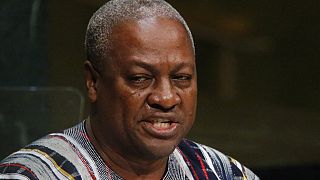 Ghana's president, John Dramani Mahama, in a bid to support a campaign against child marriage, threatened to commit murder if anyone attempts to marry off his daughter if she was underage.
I declare the #GhanaEndsChildMarriage Campaign Officially launched – Prez JdMahama</a> <a href="https://t.co/Dke0OSUvd3">pic.twitter.com/Dke0OSUvd3</a></p>&mdash; Min of Gender -Ghana (MoGCSP_Ghana) February 10, 2016
Immense support for the #GhanaEndsChildMarriage Campaign. Together we #EndChildMarriage in #Ghanapic.twitter.com/rEcVko4SWD

— Min of Gender -Ghana (@MoGCSP_Ghana) February 8, 2016
He made this public statement in Accra at the opening ceremony of the 7th Africa Conference on Sexual Health and Rights on February 10, 2016. The three-day conference hosted by his wife, Dr Lordina Mahama, is part of an initiative of First Ladies of Africa.
President Mahama cautioned families and educational institutions to do away with the culture of silence when children are withdrawn from school to be married off.
"That is the kind of firm action we must take…school authorities must watch out. If a girl stops coming to school, ring the alarm bells, try and find out where the child is and alert the authorities as early as possible so that we can prevent them from being married off," he said.
Ghana's president added that: "Why should you be forced to marry somebody you have no affection for, and especially a child. If my daughter is below 18 and somebody attempted to marry her off, I probably will be in prison; I will commit murder".
He expressed content and support to Africa's First Ladies for the challenge they are embarking on so as to achieve their objective. Fifteen African First Ladies are in Accra for the conference.
Also, under the same umbrella, Ghana launched a campaign to end child marriage spearheaded by the country's Ministry of Gender, Children and Social Protection.
Another life changing campaign that will be launched at the #sexualhealthandrightsconference with NanaOyeLithur</a> <a href="https://t.co/IB97ve2vfK">pic.twitter.com/IB97ve2vfK</a></p>&mdash; Lordina Mahama (FirstLadyGhana) February 9, 2016
One out of five girls between 20 and 24 years old married before their 18th birthday. The Ghana Ends Child Marriage campaign seeks to change that phenomenon and many Ghanaians are expressing their support through social media.
Every child deserves a healthy and fair childhood. Show your support to the Campaign! #GhanaEndsChildMarriagepic.twitter.com/mhmCVVJm6b

— Min of Gender -Ghana (@MoGCSP_Ghana) February 10, 2016
#GhanaEndsChildMarriagepic.twitter.com/jxgHi0QG54

— #McDopeKid (@1realdopekid) February 9, 2016
I'm supporting #GhanaEndsChildMarriage! Join this campaign to save our girls. pic.twitter.com/spaCESDVWe

— Adwoa Gyimah (@adwoagyimah) February 10, 2016
Documentary on Ending #ChildMarriage in Ghana #GhanaEndsChildMarriagepic.twitter.com/RR7A7CPjgY

— Nana Oye Lithur (@NanaOyeLithur) February 10, 2016