The Denver masses turn out for Broncos' Super Bowl-winning parade
Comments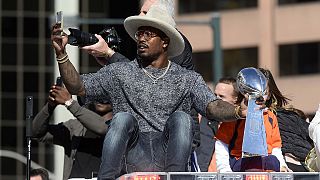 The Denver Broncos returned home to the Colorado capital on Tuesday for a parade to celebrate winning their third Super Bowl title on Sunday.
With star quarterback Payton Manning front and centre the Broncos showcased the Vince Lombardi trophy through the streets of Denver much to the delight of the thousands of fans that had turned out to catch a glimpse of their heroes.
Manning said: "I'll tell you we got great teammates, we got a great locker room vibe (Von) Miller was talking about that earlier today, we got a great culture in our locker room, and guys fight for each other, guys want to win for each other, I think that was evident all season long so Demarcus (Ware) and I feel fortunate just to be a part of this journey with some great teammates."
Super Bowl 50 – that took place in Santa Clara in California – was a bit of a damp squib in terms of attacking flare but Denver produced a defensive masterclass to beat the Carolina Panthers 24-10 for the franchises' third title following back-to-back triumphs in 1997 and '98.
39-year-old Manning – the NFL's all-time leader in passing yards and touchdown passes – earned a career second Super Bowl ring – his first was with the Indianapolis Colts in 2006. He became the first starting quarterback to win two Super Bowls with two different teams.
Broncos linebacker Von Miller was named Super Bowl 50's Most Valuable Player becoming only the tenth defensive player to win the award.
The 26-year-old Dallas native completed five tackles, two and a half sacks and two forced fumbles.