Raptors continue fine form with victory over Pistons
Comments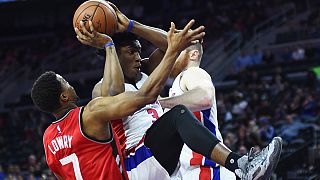 Kyle Lowry starred as the Atlantic Division-leading Toronto Raptors beat the Detroit Pistons on home court in Michigan.
There was nothing much to seperate the two sides in the first half of a tight encounter.
Torronto started to pull away in the third although their lead was cut to five courtesy of a buzzer-beating 80-foot stunner from Andre Drummonds.
Lowry however took over again in the fourth quarter and helped his Raptors to an 11-2 point run.
At one stage the Canadian franchise led by as many as 21 points.
Lowry would finish with a game-high 25 points, Terrance Ross chipped in with 18 while DeMar DeRozan added 17 points as Toronto went on to celebrate a 103-89 victory.
It was their 14th victory in 15 games – their next match is against Minnesota on Wednesday.