Venice Carnival climax triggers tightened anti-terror surveillance
Comments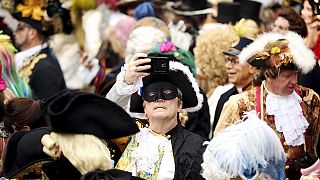 Security has been stepped up in Venice as Carnival celebrations reach their climax.
Increased surveillance will surround Tuesday's final day of festivities as revellers mark Mardi Gras.
Italian authorities decided to increase surveillance at the carnival after November's deadly terrorist attacks in Paris.
And while bags are being checked among other measures to help ensure the event stays safe, the thousands attending have been allowed to keep wearing their flamboyant costumes including the traditional masks – which may nonetheless have to be lifted from time to time for security checks.
Police ask Venice carnival-goers to momentarily lift masks as part of new anti-terrorism measures: https://t.co/uwvGumQzHL

— The Associated Press (@AP) 31 Janvier 2016
One of the world's oldest carnivals, this pre-Lent party traces its roots back to 1162.
But despite threats posed in this modern-day climate, those attending the 2016 event are determined to enjoy this most colourful of celebrations to the full.
E anche per quest'oggi, la giuria è pronta. Signori, a voi i voti migliori#CarnevaleVenezia2016pic.twitter.com/QDuGoTfEjQ

— Carnevale di Venezia (@Venice_Carnival) 8 Février 2016