Tens of thousands of Syrian refugees in camps next to Turkey border
Comments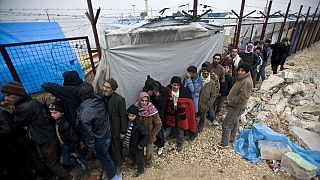 Hundreds more Syrian refugees arrived at the Turkish border, as evening fell on Monday.
They joined tens of thousands of people already gathered at the Bab Al-Salam-Oncupinar crossing, although the border gate remained closed.
Last week, some 35,000 people fled the escalating Syrian government offensive in the Aleppo area, arriving at Bab-Salam to cross into Turkey.
The Turkish government has been allowing wounded people to enter, but has said that the country has reached its capacity to absorb large numbers.
Camps have been set up on the Syrian side of the border.
Turkey has been providing support to the refugees, with aid workers setting up tents and distributing supplies.
Turkey shelters more than 2.5 million refugees from Syria's civil war.