'The Revenant' director Inarritu scoops DGA award, as Oscars near
Comments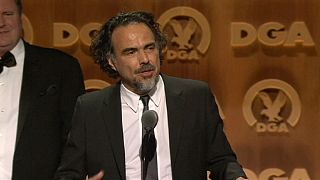 Alejandro Gonzalez Inarritu, the Mexican director of Oscars favourite 'The Revenant', has become the first person to win the Director's Guild Awards' (DGA) top prize two years in a row.
Last year, 'Birdman' won him the accolade and he went on to win the Oscar a few weeks later.
On receiving the DGA award for Outstanding Directing Achievement for a Feature Film, Inarritu said: "This hug, this embrace that you are giving me today goes to a whole country (Mexico), to a whole Latin American community in this country (US).
"I'm suddenly in the spot(light) of all these people that live here, that they contribute a lot to this country. And your embrace makes me feel proud and happy."
The Revenant, starring Leonardo di Caprio, is leading the Oscars race with 12 nominations.
The Oscars ceremony takes place on 28 February.