Bosnia's Muslims protest against ban on religious symbols in courts
Comments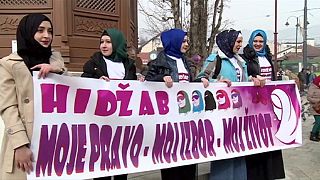 Bosnian Muslims have marched in Sarajevo to protest against a Supreme Court ruling that
bans the ostentatious wearing of all religious insignia inside courts throughout the country.
Several hundred people gathered to express their outrage, and they claim the ruling goes against the UN Human Rights resolution.
"My hijab is everything, it's my life, my pride, my belief – my love for Allah," said Zahida from Srebrenica.
"We want to support a democratic and free society, in which you can dress up to pretend to be Michael Jackson, in which you can be completely naked and workout at your office, near the window. In the same way, you should be allowed to cover your head, put your veil on and dress up the way you like.," said rally organiser Ismet Becar.
The ban applies to all religious symbols, hijabs and Catholic or Orthodox crosses, and applies to court officials. The public and third parties like witnesses will be allowed, or not, on a case-by-case basis.
Around 40% of Bosnians are Muslims. Most women do not wear hijabs, and most would describe themselves as moderate.