Pope Francis celebrates Jubilee day in honour of Padre Pio
Comments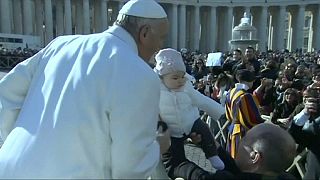 Thousands of Roman Catholic faithful gathered on Saturday in St. Peter's Square to celebrate a Jubilee day for the revered mystical monk, Padre Pio.
Pope Francis, who led the crowd in prayers, had wanted Padre Pio's remains to be displayed during the Roman Catholic Church's Jubilee of Mercy year, which runs until November 2016.
#PadrePio was a true 'servant of mercy,' #PopeFrancis says https://t.co/cQIbbLhGSz via eharris_it</a></p>&mdash; Catholic News Agency (cnalive) February 6, 2016
Padre Pio died in 1968 and was declared a saint in 2002. He was believed to have suffered from stigmata – the phenomenon of having marks, pain, and bleeding in locations corresponding to the crucifixion wounds of Christ.
Today I was with my parents in St Peter's basilica.Just 20 people in the closed church.A lot of time with Padre Pio. pic.twitter.com/PgecaTSFsl

— Florian Kolfhaus (@FlorianKolfhaus) February 6, 2016
Padre Pio's embalmed body was brought to St Peters on Friday in a crystal coffin.
The remains, along with those of Saint Leopoldo Mandic, were paraded through the the streets, before arriving at the Vatican to be blessed by Pope Francis.