Catholic Saint Padre Pio's remains begin journey to the Vatican
Comments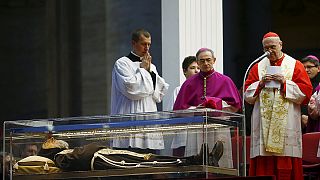 The partially-reconstructed remains of Padre Pio have begun an overland journey to the Vatican at the request of the Pope.
He died in 1968 and was
declared a saint in 2002, the Capuchin monk is being carried in a crystal coffin from the southern Italian town of San Giovanni Rotondo.
Padre Pio spent most of his life hearing confessions and was said to have had stigmata on his hands and feet.
Pope Francis wanted his remains to be displayed St Peter's Basilica in 2016, which is the Roman Catholic Church's year of mercy.