Body of Italian student killed in Egypt repatriated to Rome
Comments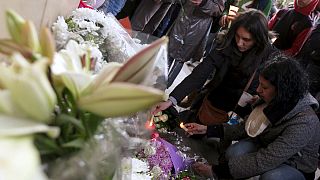 The body of an Italian doctoral student, found dead in Cairo, has been returned to Rome.
Italy establish what happened to Giulio Regeni, who had been stabbed repeatedly.
The 28-year-old's body is said to have showed signs of torture, including cigarette burns.
Regeni, a Cambridge University doctoral student, had been researching local labour movements and other social issues in Egypt
"We've asked for and secured complete availability and collaboration of the Egyptian authorities," said Andrea Orlando, Italian Justice Minister.
"We've asked them to act with determination, with transparency and speed."
Regeni disappeared on the 25th of January, the anniversary of Egypt's 2011 uprising. It was a day when security forces were out in force to stop any protests.
Activists gathered outside the Italian Embassy in Cairo on Saturday and called for a full inquiry.
"Giulio was here fighting for the rights of Egyptian labour workers and for the Egyptian revolution. The least we can do is stand her and say that we consider him to be one of us. Unfortunately, he died the same way a lot of Egyptians are dying," said Sally Toma, a political activist.
Many activists claim Regini's case mirrors so-called "enforced disappearances" that have been prevalent in Egypt.
He had written articles critical of the Cairo government, according to an Italian newspaper that published them.