Modern Express towed safely into Bilbao port
Comments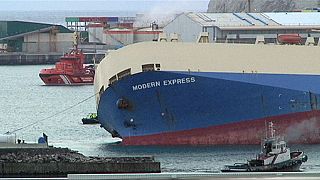 The large cargo ship which went adrift last week in the Bay of Biscay has been successfully towed into the Spanish port of Bilbao.
The Modern Express was brought in unceremoniously where it was docked with the assistance of three tug boats.
It was a spectacle which brought out the tourists.
#breakingnews#modernexpress#vessel from #Santurtzi#Bilbao#Portpic.twitter.com/1ysUu1IhoT

— Natxo Rodriguez (@Natxillo) February 3, 2016
The 164-metre vessel had been badly listing in rough seas after its cargo of wood and machinery is thought to have shifted.
Its 22 crew members were evacuated by helicopter but it had been feared it would run aground and spill its 300 tonnes of fuel, presenting a potential environment risk to the French coast.
Slideshow: #ModernExpress rescue operation in pictures https://t.co/HqyMiPxAoRpic.twitter.com/0RrOXDd8U0

—

IHS

Maritime & Trade (@IHS4Maritime) February 2, 2016
Bad weather hindered rescue efforts on Sunday, two days after another tow line to the 164m (538ft) vessel was broken in rough seas.
Specialists at Bilbao port who view the challenge of righting the ship as welcome employment, expect the Modern Express to attract plenty of interest from maritime enthusiasts
In 2002, the Prestige oil tanker sank off the coast of northern Spain, spilling 50,000 tonnes of oil and polluting thousands of miles of coast.