Syrian government forces backed by Russian air power advance on Aleppo
Comments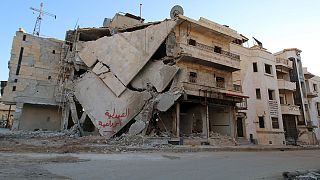 Syrian government forces backed by Russian air power have made major advances against rebel forces north of Aleppo.
#SAA declare fire control over Rityan in north #Aleppo countryside pic.twitter.com/rtmyufyu38

— Hassan Ridha (@sayed_ridha) February 2, 2016
Anti-Assad fighters say the assaults have been punishing with Syrian forces ending a three-and-a-half-year siege of the Shi'ite towns of Nubul and al-Zahara in just three days.
The operation has also cut off a vital rebel supply line from Turkey to Aleppo some 50 km south of the Turkish border.
If government forces regain the city it will be a huge blow to the rebel cause, Aleppo has been partitioned since 2012 with areas controlled by Damascus and other parts run by a patchwork of opposition factions.
Those under government attack claim Russia has launched some five hundred air strikes and the area is in danger of being encircled by Assad's forces and allied militia.
Russia says it intends to continue with its air campaign with foreign minister Sergei Lavrov saying Russian strikes will continue until the "terrorist organisations"
are defeated.
#Lavrov: Russian airstrikes will not cease in Syria until we truly win over terrorist groups https://t.co/UP4l1gIG7Ipic.twitter.com/2tTVua0S3b

—

MFA

Russia (@mfa_russia) February 3, 2016
Lavrov: Russian Airstrikes in Syria Will Continue Until Terrorists Defeated https://t.co/uhwL35mYNKpic.twitter.com/bGE1D6tXBJ

— Voice of America (@VOANews) February 3, 2016
#Aleppo before the war#Syriapic.twitter.com/u8tv4XuYVJ

— Al-Masdar News (@TheArabSource) January 29, 2016