Turkish disaster agency warns thousands of Turkmens fleeing Syria
Comments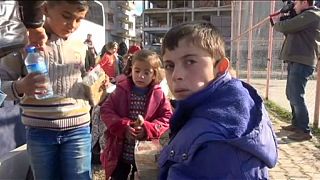 Turkish disaster agency AFAD says over 3,600 Turkmens and Arabs have fled across the border from Syria in the four days leading up to February 2, with thousands more expected in the near future.
Families fleeing the violent attacks in the #Turkmen region in #Syria took refuge in #Turkeyhttps://t.co/bfOckmsSY3pic.twitter.com/BsCk4U9kAJ

— AFAD (@AFADTurkey) February 2, 2016
Syrian pro-government forces, backed by Russian air strikes, have advanced into the north of Latakia province forcing the evacuation of a camp in the village of Yamadi.
Attacks against the Turkmens have intensified in December and January and many families had taken shelter in the Yamadi camp, near the border with Turkey.
Ankara is enraged about the assaults on their ethnic kin, and claims Moscow is targeting the Turkmens in Syria.
The Russian Defence Ministry, however, published a video provided by the Syrian armed forces and a local opposition group, which purports to show "a Turkish artillery battery shelling a Syrian border village."