New Michelin guide boasts 2016's best eating places, but launch saddened by suicide
Comments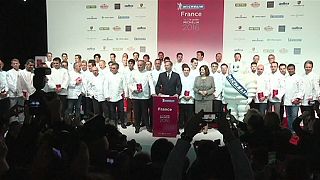 The Michelin good food guide, the global gastronome's bible, has been published on the day the news one of the brightest stars in French cooking, Benoit Violier, had shot himself just days after winning a coveted third Michelin star.
The award helped his restaurant, the Hotel de Ville near Lausanne, to be voted the best in the world, and yet at the height of his fame Violier chose to end it all.
While the Michelin guide publishing day is a big event for chefs hoping they have won a star and can bump up their prices accordingly, Violier's death overshadowed everything.
"The atmosphere is chastened and sad because of Benoit's death. Our thoughts are with this wife, his son and the Hotel de Ville staff," said two-star chef Jean-François Piège.
Several French chefs have had high-profile money worries recently as diners have stayed away and costs have risen, so it may be that Violier had money problems in the ultra-competitive world of fine dining.
Some people were happy on Monday. One of French cuisine's most famous names, Alain Ducasse, got back a third star taken from him, while Christian Le Squer got his third for his restaurant in the George V hotel in Paris.
The new three-starred restaurants
Paris 8e Alain Ducasse au Plaza Athénée Paris 8e Le Cinq (Christian Le Squer)
The new two-starred restaurants
Bordeaux (33) La Grande Maison – Joël Robuchon Colmar (68) JY'S (Jean-Yves Schillinger) Megève (74) 1920 (Julien Gatillon) Mougins (06) Paloma (Nicolas Decherchi) Paris 7e Sylvestre (Sylvestre Wahid) Paris 8e Le Gabriel (Jérôme Banctel) Paris 8e Le Grand Restaurant – Jean-François Piège Paris 16e L'Abeille (Christophe Moret) Paris 16e Histoires (Mathieu Pacaud) Wingen-sur-Moder (67) Villa René Lalique (Jean-Georges Klein)
The new one-starred restaurants
ALSACE, CHAMPAGNE-ARDENNE, LORRAINE
Baerenthal (57) L'Arnsbourg
Strasbourg (67) Au Crocodile
AQUITAINE, LIMOUSIN, POITOU-CHARENTES
Massignac (16) Dyades
St-Émilion (33) Les Belles Perdrix à Troplong-Mondot
Bordeaux (33) Le Pressoir d'Argent – Gordon Ramsay
AUVERGNE, RHÔNE-ALPES
Annecy (74) L'Esquisse
Bagnols (69) 1217 (Château de Bagnols),
Lyon (69) Le Passe-Temps
Lyon (69) PRaiRiaL
Machilly (74) Le Refuge des Gourmets
St-Martin-sur-la-Chambre (73) Le Clocher des Pères
Thonon-les-Bains (74) Raphaël Vionnet
Venosc – Les Deux-Alpes (38) Le P'tit Polype (au Chalet Mounier)
BURGUNDY, FRANCHE-COMTÉ
Beaune (21) Le Carmin
Dijon (21) La Maison des Cariatides
BRITTANY
Sainte-Marine/Bénodet (29) Les Trois Rochers
La Gouesnière (35) La Gouesnière (Maison Tirel Guérin)
Porspoder (29) Le Château de Sable
Quimper (29) Allium
Roscoff (29) Rackham
CORSICA
Belgodère (20) I Salti
LANGUEDOC-ROUSSILLON, MIDI-PYRÉNÉES
Nîmes (30) Jérôme Nutile (Le Mas de Boudan)
Toulouse (31) PY-R
Toulouse/Castanet-Tolosan (31) La Table des Merville
ÎLE-DE-FRANCE
Paris 2e Saturne
Paris 7e Nakatani
Paris 8e Lucas Carton
Paris 15e Neige d'Été
Paris 16e Hexagone
Paris 16e Pages
Versailles (78) La Table du 11
NORD-PAS-DE-CALAIS, PICARDIE
Lille (59) La Table (Hôtel Clarance)
Raismes/Valenciennes (59) La Grignotière
NORMANDY
Argentan (61) La Renaissance
Caen (14) Initial
Caudebec-en-Caux (76) Manoir de Rétival
PAYS-DE-LA-LOIRE
Angers (49) Le Favre d'Anne
PROVENCE-ALPES-CÔTE-D'AZUR
Juan-les-Pins (06) La Passagère
Nice (06) Jan
Gordes (84) Pèir
Tourrettes (83) Faventia
Forcalquier/Mane (04) Le Cloître