Turkey's Erdogan threatens 'consequences' for Moscow, saying Russian jet violated its airspace
Comments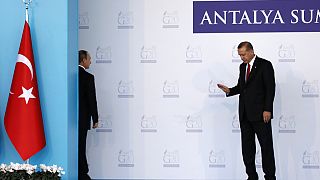 The Turkish government said on Saturday that a Russian fighter jet had violated its airspace on Friday. Moscow denied the accusation.
Turkey's President Recep Tayyip Erdogan described the incident as a Russian attempt to "escalate" the crisis in the region.
"If Russia continues to violate Turkey's sovereignty they will bear the consequences. Such irresponsible behaviour will not contribute to improving relations between NATO and Russia or peace in the region. On the contrary, it will do harm," Erdogan said.
Russian Defence Ministry spokesman, Major-General Igor Konashenkov denied that any Russian plane had entered Turkish airspace, and called the allegation "pure propaganda."
Tensions between Ankara and Moscow have been high since Turkey shot down a Russian warplane in November, which it said had violated its airspace. Russia insisted the jet was over Syrian territory when it was hit, had never entered Turkish airspace and did not receive any warnings.