Turkey says Russia violated its airspace, Erdogan calls for meeting with Putin
Comments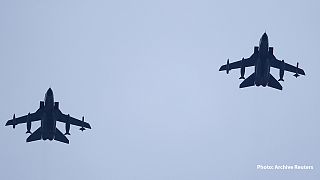 The Turkish government has announced that a Russian Sukhoi 34 fighter jet violated Turkish airspace on Friday despite several radar warnings.
"We are making a clear call to the Russian Federation not to violate Turkish airspace, which is also NATO airspace," the Turkish foreign ministry said in a statement."
"We are emphasising once again that the unwanted consequences of such irresponsible behaviour will belong fully to the Russian Federation."
Turkish President Recep Tayyip Erdogan on Saturday evening called for a meeting with Russian President Vladimir Putin to discuss the incident.
NATO has urged Russia to "take all necessary measures" to ensure NATO airspace is not violated.
Russia, which has an airbase near Latakia, started a military intervention in Syria's civil war in September, following a request from the Syrian government.
Tensions between Ankara and Moscow have been high since Turkey shot down a Russian warplane in November, which it said had violated its airspace.
Russia insisted the jet was over Syrian territory when it was hit, had never violated Turkish airspace and did not receive any warnings.