Damascus blasts aimed at disrupting Syria peace talks - EU foreign policy chief
Comments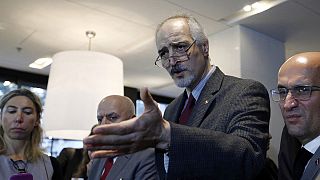 Sunday's deadly blasts in Damascus were intended to disrupt Syria's fledgling peace talks, according to the European Union's foreign policy chief.
"The attack near the Sayeda Zeinab shrine is clearly aimed to disrupt the attempts to start a political process," Federica Mogherini said in a statement.
As UN mediator Staffan de Mistura met Syria's Higher Negotiation Committee (HNC) main opposition for the first time on Sunday, the group warned that it may walk away unless civilians' suffering is eased.
"It is important for us to see that food goes to our children who are starved to death, to see Syrian families, Syrian women are safe, sitting in their homes, in their houses," said HNC spokesman Salim al-Muslat, pointing the finger of blame at Russian strikes.
The Saudi-backed group only came to Geneva under pressure, notably from the United States.
Syria's government delegation had already met de Mistura.
It says moves like the creation of humanitarian corridors and ceasefires are being considered but suggests they might come about as a result of the talks, not before them.
"The goal is obviously to participate in an indirect dialogue between Syrians to relaunch a comprehensive political process in line with Security Council Resolution 2254, without preconditions or foreign interference," government delegation leader and Syria's UN Ambassador Bashar al-Jaafari said.
Both sides' demands appear far from compatible, and as mediators get to grips with the ground rules, the bloodbath in Syria continues.
Syria talks in Geneva reflect fractured conflict on the ground https://t.co/hRw7EdZw6Npic.twitter.com/mM05w7Xvgp

— New York Times World (@nytimesworld) 31 Janvier 2016