Syrian opposition delegation keen for 'success' at Geneva peace talks
Comments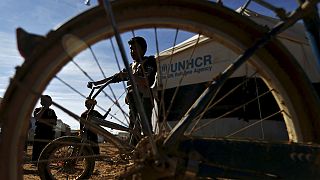 A Syrian opposition delegation has arrived in Geneva, saying they are keen to make United Nations peace talks a success.
The representatives also want to test the Damascus government's intention to implement UN resolutions.
The team from the Saudi-backed High Negotiations Committee (HNC) is set to meet the UN mediator on Sunday.
We're here to see #UNSC2254 enforced. Stop massacres. We're here to put an end to this-SalimMuslet</a>, HNC Spokesman <a href="https://t.co/RVI3SyjjI6">pic.twitter.com/RVI3SyjjI6</a></p>&mdash; Syria Opposition HNC (SyrianHNC) 30 Janvier 2016
"We are here to make this a success. We're ready to start negotiations," said Salem al Meslet, an opposition spokesperson.
"But at least we should see something, you know, on the ground there in Syria. We should really stop these massacres against our people."
The HNC has reversed a boycott in agreeing to attend the talks. Their continued absence had threatened to derail the attempt to find a diplomatic solution to Syria's war.
In almost five years of war, more than 250,000 people have been killed and more than 10 million driven from their homes. Almost half a million are living in besieged areas, cut off from humanitarian aid.
The HNC says President Bashar al-Assad must release women and children from government jails and allow aid into those besieged areas.
Opposition coordinator Riad Hijab, who was not among the group that arrived in Geneva, said in a statement that there would have to be humanitarian improvements to justify the delegation's continued presence at the talks.
The meetings in Geneva, billed as multi-party talks, are part of a process outlined in a UN resolution last month that envisions an 18-month timetable for a political transition in Syria, including the drafting of a new constitution and elections.