Myanmar generals hand over power to Suu Kyi's NLD
Comments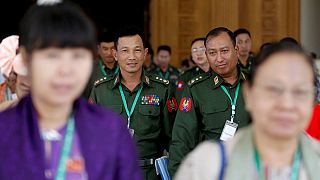 Myanmar's election-winning party, the National League for Democracy, is preparing to form a government and take charge of the country.
The party's leader, Nobel laureate Aung San Suu Kyi, paid tribute to the outgoing regime, which is dominated by the military, for facilitating a smooth transition to what will be the first democratically elected government in decades:
"I would like to welcome the new members of parliament. In the meantime I would like to congratulate the old members for the work they've done. The way forward for the new members is now much clearer."
Although Suu Kyi remains a powerful figure the constitution bars her from the presidency because her late husband was British and her sons are not Myanmar citizens.
The NLD won a landslide victory in last November's election, although because of a change in the constitution in 2008 the military will still control a quarter of the seats in parliament.
The first sitting of the new government is due to take place on Monday.