Hopes low for progress at Syria peace talks
Comments
By
Euronews
with
Reuters, United Nations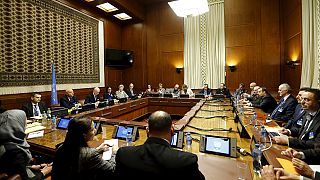 The first peace talks on Syria in two years have begun in Geneva, but so far only the government delegation has turned out to negotiate.
Opponents of Syrian President Bashar al-Assad and his regime have demanded that preconditions be met, before they will attend the third round of discussions. The main group – the High Negotiations Committee – says the United Nations must put an end to Russian-backed attacks on civilian areas in Syria, lift blockades and stop ongoing sieges.
Qadri Jamil, Syria's former Minister for Economic Affairs is allied with Moscow. He said:
"[The United Nations] implemented the UN Security Council resolution by inviting Syrian parties to the talks in January, and invited all opposition parties, even if they are coming in two delegations. This was the only way out."
Outside the talks, Syrian organisations called for humanitarian issues to be dealt with.
Inside, meanwhile, UN envoy Staffan de Mistura began the so-called proximity talks with the government delegation. Meetings with "other participants" will take place "subsequently," according to a UN statement.
Discussions are expected to last for six months.
Speaking from Istanbul, Turkish President Recep Tayyip Erdogan placed the blame for the poor turnout at Russia's door.
"Unfortunately, the promises made to the opposition were not met. The continued Russian bombing of opposition areas has especially created a significant problem for them," he said.
Hopes are low that the negotiations will amount to anything, particularly a resolution of the five-year-long crisis.
In a comment to Reuters news agency, one Western diplomat described the talks as a "complete failure" before they had even started.
On the same day the talks began, the Dutch government became the latest to extend its role in the US-led coalition against ISIL. Its forces will now broaden their participation to include the bombing of targets in Syria, the Dutch administration said in a statement.