Germany agrees new measures to stem flow of migrants
Comments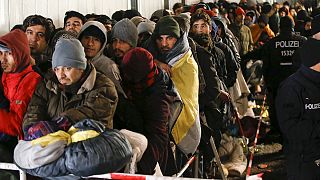 More than a million migrants arrived in Germany last year – and now Berlin is making moves to stem the flow.
New measures agreed include a two-year ban on family reunions for asylum seekers who are granted limited refugee protection and speeding up the deportations of failed applicants.
A dispute over tighter immigration controls has been straining the ruling coalition and Chancellor Angela Merkel's popularity has slumped.
"We will work case-by-case with the migrants' countries of origin to move the issue forward," Merkel told reporters.
"We want those with the prospect of remaining to be integrated, but we also want to say that we need those who have no prospect of remaining to return."
Meanwhile, Germany has also issued its first ID cards for refugees. The aim is to make it tougher for individuals to travel through the country with multiple identities, linking them instead to one set of fingerprints.
German towns and cities say the influx of 1.1 million migrants last year is pushing their resources to the limit and they would not be able to accommodate more newcomers if the numbers do not go down.
A growing number of migrants from Iraq are already deciding that life in Germany is not for them. Some 50 asylum seekers flew out of Berlin on Wednesday, having volunteered to return home.
There is mounting frustration over a long application process and poor conditions at shelters.