Despite cold weather migrants still risking everything to get to Europe by sea
Comments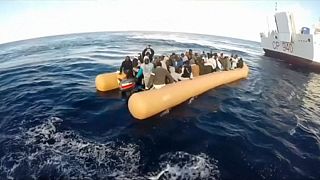 Scores of migrants have been picked up off the coast of Libya in ten rescue operations over four days coordinated by the Italian coastguard.
In one boat all were of sub-Saharan origin. Coastguards counted six women and one child among the rescued.
If fewer people were expected to risk their lives in the Mediterranean during the winter months it doesn't seem to have turned out that way.
The UN estimates more than 2,200 have arrived in Italy by sea this year so far.
The flow of migrants to the Greek island of Lesbos doesn't seem to have slowed down either. Around 35,455 people have already arrived in January 2016. When they get there during these wintry days medical staff are usually on hand to provide immediate assistance to those in need.
As a crowded rubber boat approached the Greek island of Lesbos on Tuesday, aid workers waved and gave the roug… https://t.co/3Vo9qdHUAf

— ShinraTensei (@24tebs) January 21, 2016
The influx of migrants into the rest of Europe is however, threatening the existence of the passport free Schengen zone with some member states taking unilateral action to control their frontiers. The concern is that refugees who make it thus far could soon get no further, raising alarm bells in Athens and Rome.