Nearly half of Swedens' 2015 asylum seekers to be expelled says minister
Comments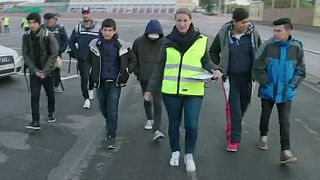 Of the more than 160,000 people who sought asylum in Sweden in 2015, a record number, between 60,000 to 80,000 may be "heading home":
http://www.theguardian.com/world/2016/jan/28/sweden-to-expel-up-to-80000-rejected-asylum-seekers.
Asylum rejections are currently running at 45% of applications, so the Swedish interior minister's Thursday comment is projecting a figure once everyone has had their application processed, which could take time.
In the meantime there are concerns large numbers of rejected refugees may be unmonitored and desperate, knowing that time is running out. The government says it fears many will go into hiding.
From being one of the most open EU nations to refugees, late last year Sweden slammed on the brakes and introduced border controls and identification checks.
The national mood has been darkened by several incidents, most tragically the stabbing to death on Monday of a 22-year-old female caretaker by a 15-year-old boy at a teenage asylum centre.