Court stuns Spain by demanding Princess Cristina face trial
Comments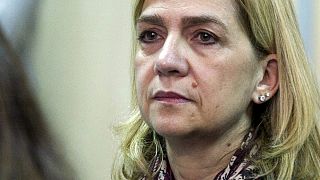 Spain's Princess Cristina is to be the first ever member of the Spanish royals to go on trial after a court sensationally ruled she would have to face charges in court ranging from money laundering to fraud.
Cristina had appealed against her case being heard and may have hoped she could strike a behind-closed-doors deal to avoid a public expose of her actions. Now it will all come out in public.
She has stood by her husband Inaki Urdangarin, despite King Felipe, her brother, demanding she divorce, although she also insists she did not know what her spouse was up to at their charitable foundation. She has also resisted Felipe's attempts to strip her of her title.
However she is named as an accomplice along with her husband and 16 other people, and faces a possible eight years in prison if found guilty, less than half the penalty Urdangarin could face.
It is a big moment for Spain, which has signally failed to prosecute those, like builders or bankers, thought responsible for the economic collapse. Secretive deals have been struck to keep their misdeeds out of the public eye. But Cristina's may now be exposed.