Ivory Coast's Gbagbo accused of war crimes in landmark ICC trial
Comments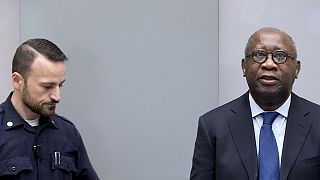 The trial of former Ivorian president Laurent Gbagbo began on Thursday at the International Criminal Court (ICC) in The Hague.
Gbagbo and his co-accused, militia leader Charles Ble Goude, have been accused of four counts of crimes against humanity: murder, rape, attempted murder and persecution.
Gbagbo and Ble Goude have pled not guilty to all charges.
Trial of Laurent Gbagbo on crimes against humanity begins today at The Hague. pic.twitter.com/cgGgaAxC7m

— africanews (@africanews) January 28, 2016
ICC chief prosecutor Fatou Bensouda, in an opening statement, said Gbagbo and his inner circle had targeted Muslims and people of other ethnicities who were believed to have supported election winner Alessane Ouattara.
"Cote d'Ivoire, (Ivory Coast), succumbed to chaos and was subjected to unspeakable violence," Bensouda said. "Gbagbo never intended to leave office," she added.
The trial is expected to last for up to four years.
Watch: Live stream of trial from International Criminal Court
History
Gbagbo, who become president of Ivory Coast in 2000, sparked a violent crisis when he refused to step down following his loss to Alassane Ouattara in the 2010 presidential vote.
There were bloody clashes between rival forces over several months from late 2010.
Around 3,000 people were killed and the fighting ended only when former colonial power France intervened militarily, allowing Ouattara to take office.
At the opening day of the ICC trial, chief prosecutor Fatou Bensouda related the account of one witness who said she had been arrested at a pro-Ouattara rally and subjected, along with other women, to three days of gang rapes by armed officers.
Gbagbo was arrested in April 2011 by forces loyal to Ouattara, backed by troops from France, and extradited to The Hague later that year.
ICC begins trial of first head of state: Ivory Coast's Laurent Gbagbo. https://t.co/T01dx5lnuGpic.twitter.com/YlPkW0Mm8i

— Kenneth Roth (@KenRoth) January 25, 2016
Gbagbo: Timeline
1945: born in Mama, near Gagnoa in Ivory Coast, (then French West Africa).
1970s: worked as a history professor and became an opponent of the regime of Ivory Coast President Felix Houphouet-Boigny
1971: jailed for two years for "subversive teaching"
1980s: became heavily involved in trade union activities and activism
1982: participated in teacher's strike and formed the group that would become the Ivorian Popular Front (IPF), before going into exile in France
1988: returned to Ivory Coast and was elected IPF Secretary-General
2000: became President of Ivory Coast after a coup in which Robert Guei had briefly taken power in 1999
2010: lost presidential election to Alassane Ouattara
Opposition to ICC trial
Gbagbo's supporters accuse the ICC of overlooking alleged crimes by his opponents, including 2010 election winner Alassane Ouattara.
Dozens of people demonstrated outside the ICC on Thursday as Gbagbo's trial began.
"We want him, (Gbagbo), released," said Paris-based Ivorian, Michele. Ouattara was a "rebel chief" who had been helped by France to usurp power, she added.
Others loyal to Gbagbo gathered in his stronghold of Youpugon in Ivory Coast's commercial capital, Abidjan, to follow the trial.
ICC chief prosecutor Fatou Bensouda said on Wednesday that investigations into the pro-Ouattara camp have "intensified" and are "ongoing."
ICC under scrutiny
The case is a test for the credibility of the global war crimes court, which is seen by many critics in Africa as a European-backed neo-colonial institution.
The ICC's last attempt to press charges against a top politician, Kenyan President Uhuru Kenyatta, ended in disarray amid fierce diplomatic lobbying and allegations of witness intimidation.
The ICC has so far convicted just two little-known Congolese warlords.