US: Trump pulls out of Fox News debate days before key Iowa vote
Comments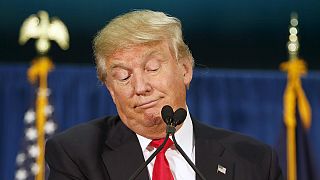 Donald Trump, the frontrunner for the US Republican presidential nomination, has pulled out of Thursday's Fox News TV debate with party rivals, just days ahead of the Iowa caucuses.
Trump has been engaged in a spat with Fox News since last year, sparked by what he saw us unfair questioning by anchor Megyn Kelly.
"They (Fox News) can't toy with me like they toy with everybody else. So let them have their debate and let's see how they do with the ratings," Trump said.
In an online statement, the Trump campaign said that instead of taking part in the debate, he will host "an event in Iowa to raise money for veterans and wounded warriors."
27 Janvier 2016
.ChrisChristie</a> on Trump: "The American ppl should wonder you know if you&#39;re not willing to show up when everything isn&#39;t going your way..."</p>&mdash; Megyn Kelly (megynkelly) 27 Janvier 2016
Ted Cruz, Trump's closest rival in the battle for Iowa Republican votes, challenged him to a two-man debate.
"This race is a dead heat between Donald and me. If he's unwilling to stand on the debate stage with the other candidates then I would like to invite Donald right now to engage in a one-on-one debate with me any time between now and the Iowa caucuses," Cruz said.
I challenged realDonaldTrump</a> to a one-on-one debate. Tell him to accept: <a href="https://t.co/wUZHtRpaj4">https://t.co/wUZHtRpaj4</a> <a href="https://twitter.com/hashtag/DuckingDonald?src=hash">#DuckingDonald</a> <a href="https://t.co/xjCvjS7yyx">pic.twitter.com/xjCvjS7yyx</a></p>&mdash; Ted Cruz (tedcruz) 27 Janvier 2016
The Iowa caucuses on 1 February officially kick off the nomination process, as the long US presidential race steps up a gear.
The latest polls have Trump strongly leading the Republican pack nationally.
Confused about caucuses and primaries? Wondering how exactly the US President is elected? Check out our US primaries explainer from euronews Washington correspondent, Dr. Stefan Grobe