Japanese Emperor in the Philippines amid protest from wartime sex slaves
Comments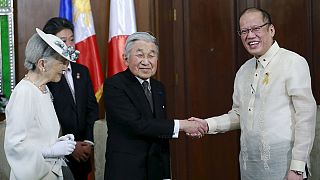 Japanese Emperor Akihito and Empress Michiko paid tribute to the Philippines' World War II heroes in Manila on Wednesday (January 27).
The pair are on a four-day state visit to the Philippines — the first by a Japanese Emperor — to celebrate 60 years since the reestablishment of diplomatic relations between the two countries, following World War Two and Japan's occupation of the region.
Emperor Akihito also met Philippines President Benigno Aquino III.
But near the presidential palace, former wartime sex slaves of the Japanese army held a rally to demand compensation.
Eighty-five-year old Narcisa Claveria was among the protesters. She was abducted in 1943 and became a sex slave to Japanese soldiers.
"My message to the emperor is that since they've already acknowledged the Korean 'comfort women', what about the Filipino victims? They should acknowledge us too because we are all victims," she said.
Japan and South Korea recently settled their own decades-long dispute on the issue, with Tokyo pledging more than $8 million for the South Korean victims of Japan's former military brothels.