French justice minister quits over anti-terror plan
Comments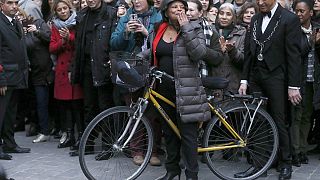 France's left-wing justice minister Christiane Taubira resigned on Wednesday (January 27), after clashing with the government over its anti-terror policies.
The terrorist threat we are facing is serious. But I think we should not grant it any victory.
She will be replaced by Jean-Jacques Urvoas, a Socialist lawmaker seen as more supportive of the government's line.
Taubira often spoke out against her government's moves in the field of national security. Most recently, she opposed a plan to strip convicted terrorists of their French citizenship.
"I'm leaving the Government because of a major political disagreement," Taubira told reporters. "The terrorist threat we are facing is serious. But I think we should not grant it any victory, whether military, diplomatic, political or symbolic."
Taubira had earlier tweeted that resisting sometimes meant leaving to stand by your beliefs.
Parfois résister c'est rester, parfois résister c'est partir. Par fidélité à soi, à nous. Pour le dernier mot à l'éthique et au droit.
ChT

— Christiane Taubira (@ChTaubira) January 27, 2016
Taubira became the bête noire of French conservatives when she shepherded the legalisation of gay marriage in 2013. Many on the right also accused her of being soft on crime.
Her resignation came just as a parliamentary commission prepared to examine a controversial reform that would strip citizens of their French nationality if they are convicted of terrorism.
Hollande called for the measure to be written into the constitution in the wake of the November 13, 2015, attacks in Paris that killed 130 people and wounded hundreds.
It's part of a wider security clampdown as hundreds of French nationals, many of them dual citizens, leave the country to join the ranks of the self-proclaimed Islamic State (ISIL) militant group in Iraq and Syria, and in the case of the Paris attackers, return to strike in France.
But Taubira openly disagreed with the measure, labeling it discriminatory and useless in preventing the radicalization of French nationals.
The reform is set to be debated in parliament next week.