UN and aid agencies sound alarm about refugees stuck on EU's fringes facing disaster
Comments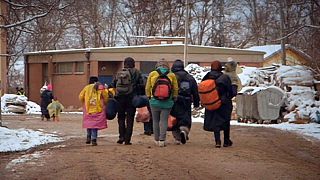 The United Nations and aid agencies are calling for increased assistance for migrants coming through Turkey and eastern Europe, and are warning a humanitarian emergency is brewing in harsh winter weather.
In part it is because of EU member states closing borders, stranding refugees in under-resourced and remote locations.
"I didn't have to think much about weather in Syria. The children are having a harder time with it. And to come all the way from Syria, it's a long distance," said one man.
Thousands of children are particularly at risk, and Germany's foreign minister agreed border closures would do nothing to improve the situation.
"We will not find a solution in the blink of an eye. And I guarantee that it does not lie with closing borders. A closing of the borders is not a solution to the problems," he said.
Doctors without Borders has gone further, the charity claiming closed borders is creating new business for people traffickers, and putting them in greater danger.
"The term 'closing of the borders' can easily be misinterpreted. Nobody's talking about a total closure of the border. Of course, the economic traffic will continue, import and export will go on, the ski tourists cross in both directions," said Bavaria's Interior Minister Joachim Herrman.
Skiing will be the last thing on the freezing refugees' minds. The plight of those still stuck on the road to Europe needs to be addressed or 2016 could see tragedies Europe has long thought eliminated from its shores.