Dutch PM Rutte warns EU 'running out of time' on refugee crisis
Comments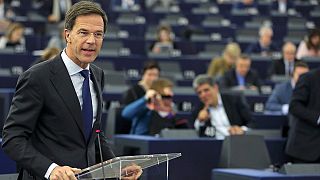 The Dutch government has warned the EU that time is running out to find a solution to Europe's refugee crisis.
Prime Minister Mark Rutte said the bloc should look to drastically cut the number of arrivals over the next two months.
"Let me be clear: the current numbers are not sustainable. We are running out of time. We need a sharp reduction in the number of refugees in the coming six to eight weeks," he told parliamentarians in Strasbourg.
Rutte was speaking at the Netherlands laid out its priorities as it takes over the six-month rotating EU presidency.
The last nation to hold the top job was Luxembourg. That country's former prime minister is now the president of the European Commission.
Jean-Claude Juncker said tougher border measures could even threaten the country's single currency.
"The single market is beginning to suffer consequences that are not being managed – because they are not manageable – of the re-introduction of borders."
"Obviously, there will be a day, when we will ask ourselves whether really we need a single currency, if we don't have a single market and if we have no longer have the free movement of workers," he said.
Meanwhile, the Financial Times reported on Wednesday that next month the EU officials will propose scrapping the Dublin asylum rules.
They mean that the first country in which a refugee arrives is responsible for any claim.