EU reassures Turkey that promised aid will be delivered to help with refugees
Comments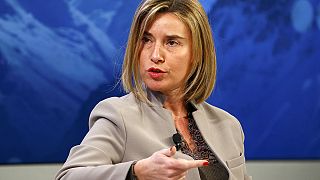 The European Union's foreign policy chief, Federica Mogherini, has reassured Turkey that it will get the financial aid promised from the EU to help cope with millions of Syrian refugees.
Last month the bloc agreed on 3 billion euros as part of a package of measures intended to persuade the refugees to remain in Turkey. However Italy has objected saying it needs to know how the money is to be spent.
Meeting President Erdogan in Ankara on EU-#Turkey relations, #Syria, refugees, worrying situation in the SouthEast pic.twitter.com/OMH00rnai3

— Federica Mogherini (@FedericaMog) January 25, 2016
"This is not money that is going into the hands of the Turkish government, this is money allocated for projects for refugees, so we are doing this work in-between. So I would like to downplay a little bit this dramatic approach because again it's one month ago (that) the decision was taken and in any case we are doing the preparatory work for spending this money in an appropriate way."
"I am very much confident that the amount that was decided will be there in very reasonable timing," Federica Mogherini told a news conference in Ankara after meetings with Turkish officials.
EU Enlargement Commissioner Johannes Hahn, also part of a heavyweight delegation from Brussels visiting Ankara, said the bloc was closely watching whether Turkish efforts to stem the flow – which have so far included issuing work permits to Syrians and visa requirements for those arriving by air – were having any effect.
Turkey which is a candidate for membership of the EU, hosts more than 2.2 million refugees from the Syrian civil war but record numbers have used its territory over the past year to reach European borders, many attempting a treacherous sea crossing to the Greek islands.