Greece: hundreds of migrants and refugees arrive in Lesbos from Turkey
Comments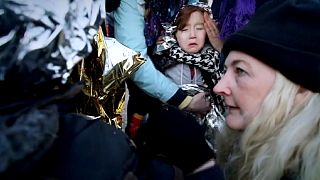 Hundreds of migrants and refugees, including many women and children, arrived by dinghy on the Greek island of Lesbos from neighbouring Turkey on Monday.
Cold, shaken, but relieved, they were greeted by medical personnel and aid workers in Mytilene.
"My friend told me about this trip, and I think It's good for my life, to change my life, I don't want to stay where the war is – in my country. Because of that I will go and find another way of life," said Abdurahman, a refugee from Syria.
Meanwhile, hundreds of people, hoping to cross from Greece into the Former Yugoslav Republic of Macedonia to travel northwards to the wealthier countries of Europe, have been stranded in the Greek border village of Idomeni.
Some 750 people were denied passage on Friday, after the Macedonian government closed the border crossing.