Portugal elects veteran centre-right Rebelo de Sousa as president
Comments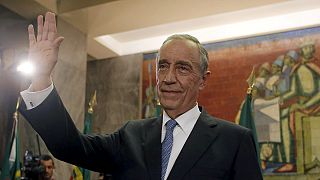 Portugal has a new president! The veteran centre-right candidate Marcelo Rebelo de Sousa notched up a convincing win in Sunday's ballot, avoiding the need for a run-off.
The post is mainly ceremonial but the president can dissolve parliament which is significant as Portugal is currently run by a shaky left-wing coalition. However in his victory speech in Lisbon, de Sousa was keen to preach consensus:
"This evening I wish to salute, in the first place, the Portuguese people. The people rule and the people wanted to give me the honor of being elected President of the Portuguese Republic. There are no defeated in these presidential elections."
As the counting neared completion de Sousa had clearly taken 52%. His nearest rival, Socialist Antonio Sampaio da Novoa conceded defeat after picking up around 23%. The Left Bloc and youngest candidate at just 39, Marisa Matias took around 10%.
Many political analysts do not expect the Socialist-led government to serve full four-year term so the new president could play a key role, either as a mediator between parties or by deciding to call new parliamentary elections.
De Sousa takes over from outgoing president Anibal Cavaco Silva, who's served the maximum of two five-year terms.
The turnout for Sunday's poll was around 50%.