Havana Grand Prix 2016: Cuban judokas strike gold on final day of home event
Comments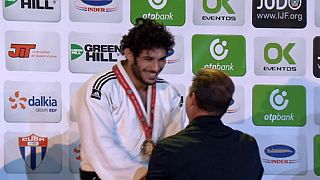 The first two days of the Havana Judo Grand Prix were disappointing for the Cuban contingent to say the least. A revolution was needed on day three and it came courtesy of the home team's leading stars. As Che Guevara once said…'Until victory, always'.
Second seed Asley Gonzalez finally gave the home crowd something to celebrated at the first Grand Prix of 2016.
The 2013 World Champion won the -90 kilo title.
Gonzalez produced a series on stunning displays en route to the weight category's showpiece match.
Ippon after ippon took Gonzalez to the final where he would eventually meet world number six Krisztian Toth of Hungary.
Despite his ippon-fest in the earlier stages Gonzalez was not going to have it all his own way in the final and needed a shido penalty awarded against his opponent to finally hand Cuba its first gold on home tatami.
The thousands of Cuban fans were back on their feet following an entertaining final in the +78 kilo class where the nation's Olympic champion Idalys Ortiz reigned supreme.
The two-time World Champion beat French judoka Lucie Louette Kanning courtesy of a huge rolling movement that led to an ippon.
Hungary's Abigal Joo swept the gold medal in the -78 kilo division.
Having dispatched reigning Olympic champion, Kayla Harrison earlier in the day a confident Joo went on to beat Germany's Luise Malzahn in the final.
A delightful ippon with 20 seconds left capped off a stunning performance from the 25-year-old.
Ukraine's Artem Bloshenko earned some valuable Olympic qualification points by winning the -100 kilo title.
The outsider upset the odds to beat world number 5 and world silver medallist Karl-Richard Frey of Germany.
After Frey was penalised twice for a gripping error, Bloshenko pounced with a ko-soto-gari for ippon, a move that earned him the shiniest of medals.
Russian giant Renat Saidov celebrated gold in the +100 kg division and he wasted very little time and fuss in doing so.
It was almost a case of 'don't blink or you'll miss it'. Barna Bor of Hungary did and it cost him top spot.
Six seconds had past on the clock and it was all over as Saidov attacked from the off, produced a stunning uchi-mata and claimed the win.
''She needs it more than me''
American Olympic champion Kayla Harrison provided the story of the day.
Yalennis Castillo stunned British Judoka and London 2012 Olympic silver medallist Gemma Gibbons early on and against the odds went on to reach one of the two bronze medal matches.
Harrison proved too hot to handle for Castillo but in a show of true generosity the American star announced she would be donating her prize money of some 800 dollars to her beaten opponent, who reportedly earns 25 dollars a month.
Harrison quite simply said ''she needs it more than I do".