'Brexit' could cause difficulties for Northern Ireland
Comments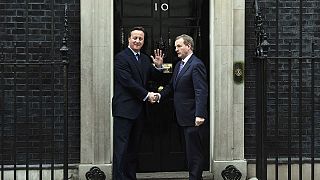 On a visit to London on Monday the Irish Prime Minister Enda Kenny told his British counterpart David Cameron, that if Britain leaves the EU it could damage trade for Northern Ireland, which remains part of the UK.
Ireland is one of Britain's key trading partners and is a vocal opponent of a so-called 'Brexit'.
"Europe would be much stronger with Britain as a central and fundamental member," said Mr Kenny. "So it's a vital issue for Europe, it's a vital issue for Britain, but it's also a pretty good issue for Ireland."
David Cameron has made it clear that he would like to stay in the EU, but only under certain conditions. He's in the process of talks with EU members to renegotiate Britain's terms of membership.
"I think we should be focusing on the positive opportunity for Britain. Imagine the scale of the prize if we can remain a member of the single market five hundred million consumers, a quarter of the global economy with a seat at the table and a say over the rules," said Mr Cameron.
The UK is due to hold a referendum on EU membership by the end of 2017.
The Irish PM said he believes that Britain's terms for continued membership can be met.