Portugal's De Souza wins presidential election in the first round
Comments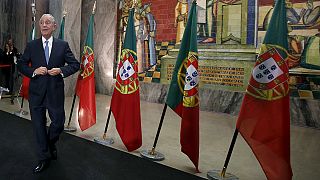 Portugal's centre-right candidate Marcelo Rebelo de Souza has won the presidential election in the first round.
He took over fifty-two percent of the vote in Sunday's poll after 97 percent of the votes were counted.
That gave him more than the minimum fifty percent needed to avoid a run-off.
Turn out was low at around 48 percent.
Sixty-seven year old de Sousa had been the favourite for president, a role which is largely ceremonial, but does give him the power to dissolve parliament in a crisis.
However before the poll he said his aim is to bring some stability to Portuguese politics.
De Sousa's victory was nothing less than a landslide, with 30 percent more of the vote than his nearest rival , Antonio Sampaio da Novoa, who came in at around 22 percent. The Independent candidate, a former rector of Lisbon University had widespread support from the moderate left but clearly not enough.
In third place was another left-winger. Marisa Matias, at 39, was the youngest contender and had strong support from the far-left. She ended up taking 10 percent of the vote, considerably more than had been predicted.
De Sousa takes over from outgoing president Anibal Cavaco Silva, who's served the maximum of two five-year terms.
Since November Portugal has been governed by a shaky alliance of centre-left socialists backed in parliament by the Communists and Left Bloc.
That contrasts sharply with De Souza's centre-right politics.
Portugal is struggling to reconcile pledges to end austerity with budget deficit cuts promied to the European Union.