Portugal's new president Marcelo Rebelo de Sousa wants to 'heal wounds'
Comments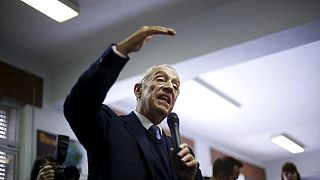 Marcelo Rebelo de Sousa has been elected as the new president of Portugal. Euronews followed the centre-right politician's election campaign and spoke to him during one of his many trips across the country.
Filipa Soares, euronews: "We see that lots of people speak with you, in the streets. You're very famous, because you've been a TV commentator for many years. What do they tell you? What do they ask you? What do they complain about?"
Marcelo Rebelo de Sousa: "They tell me about their problems, which are quite different. Public servants complain about the fact that promotions are blocked or about the cuts in their wages.
"Pensioners and retired people complain about the cuts in their incomes. Unemployed people about not having jobs.
"Here, in the countryside, people complain about inequalities in comparison to those who live in big cities, by the sea. Young people don't have jobs and have to migrate."
euronews: "With presidential powers, what do you intend to do about those problems?"
Marcelo Rebelo de Sousa: "We have to understand that the country is going through a very special period. It's leaving the crisis, but the exit is not fast, nor homogeneous.
"Not everyone leaves [the crisis] at the same time, at the same pace. Secondly, the country was divided after the last parliamentary elections. Both sides considered that they should be the new government. This created a big tension.
"On the other side, there's a problem: we can't have political instability, because we have already had one year of elections, with parliamentary and presidential elections.
"Therefore, the president has to unite, build bridges, heal wounds and for that he has to be close to the people and help the parliament and the government to ensure stability and I think I am in a good position for that.
"Why? First of all, because I've done that my entire life. Second, because I'm in the centre. To do that we have to be in a position that allows the dialogue with all sides and I've kept all my life that capacity of dialogue.
"I come from the right, my party is PSD (Social Democratic Party) and I have good relations with the PP (People's Party). On the left, I've reached agreements with the Socialist Party, when I was an opposition leader and the socialists had a minority government.
"With the Communist Party, because I've reestablished the relations between my party and the communists. And even with the left block. And this ability to establish dialogues when we can't have instability is vital. If there's another political crisis, we'll never. Or at least we won't leave the crisis so fast."
euronews: "It seems that a president from the right would be comfortable with this left government?"
Marcelo Rebelo de Sousa: "The prime-minister supported two candidates from his political area (left), but I know the prime minister very well.
"He was my student many years ago. I've always had a good relationship with him, as I had with all political parties.
"Therefore, without renouncing my ideas, I'll try not to discriminate (against the Government). I won't create any problem, any instability, any noise about government action and I'll try to make sure the basis of support for the government which, as we know, is very complicated, as it's established on parliamentary agreements, remains."