Menezes strikes gold as Pareto crumbles in Cuba
Comments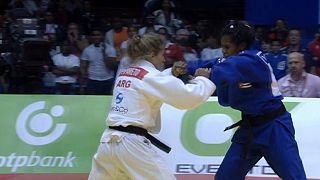 Pedro Lasuén, euronews: "The Havana Grand Prix marks the halfway point between the Tokyo and Paris Grand Slams and is also an event which athletes who didn't qualify for the Olympic Games can't afford to miss. This event allows us to see who has worked hard in training and who hasn't done his homework, who has been out of action for too long and who hasn't rested enough, who's looking sharp ahead of the new sporting year and who hasn't recovered from the Christmas break.
Day One
The Brazilian national anthem rang out as Eric Takabatake claimed the under 60 kilo category after his opponent was forced to abandon due to injury.
In the women's event, Sarah Menezes handed Brazil another gold medal when she defeated Shira Rishony in the showpiece match.
After a relatively slow start to the contest, the 25-year-old stepped it up a gear and launched a devastating drop-seoi-nage to clinch the under 48 kilo category, which featured the biggest upset of the tournament so far.
Overwhelming favourite Paula Pareto easily downed Amelie Rosseneu in her first bout before suffering a surprising defeat against World number 20 Dayaris Mestre.
Elsewhere, Mareen Kraeh beat Portugal's Joana Amos in the semi-finals and carried her momentum through into the showpiece match with yet another solid display.
The German outclassed Belgian veteran Ilse Heylen while Tsolmon Adiyasambuu and Odette Giuffrida both took bronze.
America's Marti Malloy produced a stunning performance to secure the under 57 kilo crown.
The top seed downed former World Champion Rafaela Silva before edging out Hungary's Hedvig Karakas who was penalised with a shido for passivity.
In the men's under 66 kilo category, Kamal Khan-Magomedov, who took gold in Baku last year, overcame a spirited effort from young French sensation Loic Korval to claim the under 66 kilo class.
An illustrious career
Judo fans were treated to outstanding bouts and a huge upset on a thrilling opening day, which began with the President of the International Judo Federation Marius Vizer paying tribute to former coach Ronaldo Veitia.
The 69-year-old was given the IJF Golden Medal in recognition of his illustrious career as the head coach of the Cuban National Team.
Watch the best action from a thrilling Opening day of the Judo Tour in Havana CUBA. #judo JUDOATTITUDE ► VIDEO:... https://t.co/j8yYg0H3Dz

— JudoAttitude (@JudoAttitude) January 23, 2016