Germany: Migrant crisis on agenda as Merkel hosts Turkish PM Davutoglu
Comments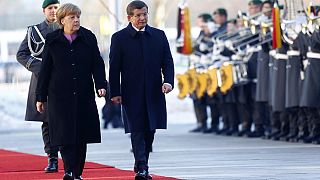 How to tackle Europe's migrant crisis is the big topic again, for Germany and Turkey, this Friday.
Turkish PM Ahmet Davutoglu has arrived in Berlin with government ministers to meet their German counterparts.
The rare exchange shows the close cooperation Chancellor Angela Merkel believes is needed to try to stem the flow of Syrian and other refugees from Turkish shores.
Merkel is under pressure to limit the number of new migrants, which reached 1.1 million last year alone, eroding her popularity and fuelling support for an anti-immigration party.
She has promised to "measurably reduce" arrivals this year, but has refused to introduce a cap.
Instead, she has tried to convince European partners to take on quotas of refugees, pushed for reception centres to be built on Europe's external borders, and led an EU campaign to convince Turkey to keep refugees from entering the bloc.
How can the EU protect itself without betraying its values? https://t.co/LLMaGSm8iN#refugeecrisis#wefpic.twitter.com/Ww0q5WrMSe

— World Economic Forum (@wef) 21 Janvier 2016
Her efforts have produced little tangible results to calm critics at home, including her Christian Social Union coalition ally in Bavaria which wants her to reverse her open-door policy for refugees and shut Germany's borders.
Despite a big money EU deal with Ankara in November and the cold weather, asylum seekers are continuing to make the perilous journey – many bound for Germany – with at least 42 more deaths reported at sea on Friday, including 17 children, when migrant boats capsized off two Greek islands.
A generation of children have lost their education and been traumatized by horrors of #SyriaCrisispic.twitter.com/axtdURoChB

— UNICEF (@UNICEF) 22 Janvier 2016
EU leaders have pledged 3 billion euros to Ankara to help care for Syrian refugees, as part of measures aimed at reducing the numbers leaving Turkey and heading for Europe.
However, Italy has blocked this funding, senior EU officials said.
The European Commission said earlier this month that it was far from satisfied with Turkey's containment of migrants as the number of new arrivals to Europe remained far too high.