Croatia follows FYROM: new rules limit migrant travel across Balkans
Comments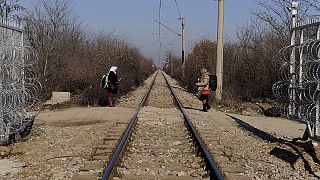 Croatia
Croatia is following in the footsteps of the former Yugoslav Republic of Macedonia's (FYROM) and introducing new measures for migrants travelling across the Balkans.
It's definitely a wake-up call for Brussels.
Interior minister Ranko Ostojic says migrants will now be required to carry a signed document stating whether they wish to seek asylum in Germany or Austria.
He also warned that decisions regarding migrants, which have been taken by other countries, have led to new routes opening up.
"Unilateral measures such as these have led to what I had warned about before, with new routes opening, These new routes opened towards Albania, and from Albania they will, off course, either try to get through Montenegro and reach Croatia – which we are prepared to prevent – or towards Italy via smugglers."
He added that the Frontex border management agency had advised of another new route, through Romania, and spoke of journeys also being made through through Bulgaria.
Austria
On Wednesday (January 20), Vienna announced it would cap the number of people able to claim asylum in Austria in 2016 and reduce that figure annually until 2019.
The cap in 2016 will be 37,500. That is less than the total amount of asylum seekers in 2015. By 2019, Austria aims to have reduced the figure to 25,000.
Foreign Minister Sebastian Kurz defended the decision:
"It's definitely a wake-up call for Brussels. We were forced to take a national decision because there is still no European solution. However, I am not pessimistic… But I do believe that it is now necessary for some countries, among them Austria, to take national measures in order not to become completely overwhelmed."
Last week, Vienna declared it would stop any migrants intending to travel north through Austria to neighbouring Germany.
Slovenia
Slovenian police have announced intentions to follow in Austria's footsteps, saying it plans "the same action" on its southern border with Croatia. The proposal will take effect if Austria takes further steps to limit migrants' entry, the police added.
FYROM
Meanwhile, Macedonian authorities have reopened the country's borders to migrants who declared Germany or Austria as a final destination on their entry documents.
Migrants were required to show an ID paper with a stamp and a written statement of where they wished to seek asylum, which was recorded by Greek officials.