Probable Russian state involvement in Litvinenko murder 'deeply disturbing'
Comments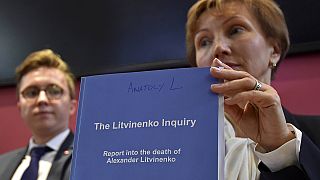 The British government says probable Russian state involvement in the murder of former KGB agent Alexander Litvinenko is "deeply disturbing."
The government is clear that we must protect the UK and her interests from Russia-based threats, working closely with our allies in the EU and NATO
It comes after the long-awaited findings of a judge-led public inquiry were revealed.
The inquiry has ruled that President Vladimir Putin probably approved a Russian intelligence operation to murder Litvinenko.
The British government is promising action, pursuing justice and freezing assets in relation to the case.
"The government is clear that we must protect the UK and her interests from Russia-based threats, working closely with our allies in the EU and NATO," said British Home Secretary Theresa May.
"And this morning I've written to my counterparts to EU-NATO and 'Five Eyes' countries, drawing their attention to both the report and the need to take steps to prevent such a murder to be committed on their streets".
The inquiry found that Russians Andrei Lugovoy and Dmitry Kovtun poisoned Litvinenko, an outspoken critic of Putin, as part of an operation directed by Russia's Federal Security Service (FSB).
It is believed he drank tea laced with radioactive polonium-210 at the Millennium Hotel in London. The judge said he was sure Lugovoy and Kovtun placed it in the teapot.
Both men have denied involvement in Litvinenko's death, as has the Kremlin.