Russia's Putin probably approved operation to murder Alexander Litvinenko
Comments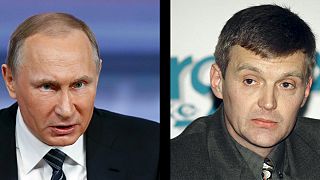 President Vladimir Putin probably approved a Russian intelligence operation to murder former KGB agent Alexander Litvinenko, a British inquiry has concluded.
It has also found that there was personal antagonism between the two men and administration members had motives for killing Litvinenko.
The outspoken Putin critic was poisoned with the rare radioactive isotope polonium-210.
It is believed it was in a cup of tea he drank at the Millennium Hotel in London.
The inquiry, led by senior judge Robert Owen, found that former KGB bodyguard and fellow Russian Dmitry Kovtun carried out the poisoning as part of an operation directed by Russia's Federal Security Service (FSB), the main heir to the Soviet-era KGB.
"Taking full account of all the evidence and analysis available to me, I find that the FSB operation to kill Mr Litvinenko was probably approved by Mr Patrushev and also by President Putin," the inquiry said.
Nikolai Patrushev was formerly head of the FSB.
"I am satisfied that in general terms members of the Putin administration, including the President himself and the FSB, had motives for taking action against Mr Litvinenko, including killing him in late 2006," the inquiry said.
Lugovoy and Kovtun deny any involvement in Litvinenko's death and the Kremlin has always done so too.
From his deathbed, Litvinenko told detectives that Putin had directly ordered his killing, a claim Moscow dismissed as ridiculous.
The inquiry findings have been a long time coming for Litvinenko's family. They have described his death as a "nuclear attack on the streets of London."