Jihadists destroy ancient monastery in Iraq
Comments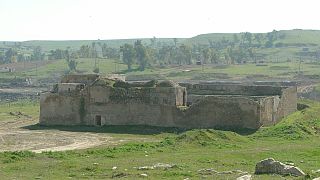 For 1,400 years Saint Elijah's Monastery in Mosul Iraq had survived assaults by nature and man, but now newly obtained satellite images have confirmed its become the latest victim to ISIL extremist destruction.
Before and after photos show the building has been completely wiped out since ISIL swept through the area in June 2014. It joins a growing list of more than 100 demolished heritage sites ISIL considers heretical.
The oldest Christian monastery in #Iraq – St. Elijah's monastery in #Mosul's outskirts – has been razed by Da'ish. pic.twitter.com/3kauPaDXYC

— Haidar Sumeri (@IraqiSecurity) January 20, 2016
ISIL is continuing to target Christians in Iraq and neighbouring Syria, seizing their property and forcing them to convert to Islam, pay a special tax or flee.
The group has demolished a number of monasteries and churches, as well as renowned pre-Islamic sites including Nimrud, Hatra and Nineveh in Iraq and Palmyra in Syria.
In Paris defence chiefs from the US-led coalition fighting ISIL or Daesh which is the Arabic acronym, met on Wednesday to examine ways of accelerating their campaign.
France's Defence Minister Jean-Yves Le Drian warned not to underestimate the militants' resilience:
"… we have noticed these past few weeks a drawing back by Daesh, but its continued resilience should however make us redouble our efforts. We have to continue to fight this organisation on all fronts and focus on eradicating it on the ground and in people's minds."
One of those ways is to attack ISIL's financial structure. Recent airstrikes in Iraq have reportedly hit a building in Mosul the group had been using to store tens of millions of dollars.
Losses like this, according to a Middle East Forum studying the group, have meant ISIL fighters had their wages slashed in half late last year.