Tusk gives the EU two months to 'save Schengen'
Comments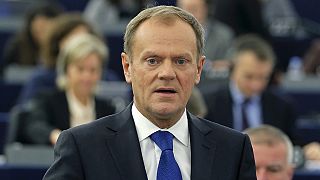 The EU has "no more than two months" to solve the migrant crisis and save its passport-free Schengen zone.
That was the stark warning European Council President Donald Tusk gave on Tuesday (January 19).
He was speaking to the European Parliament in Strasbourg, ahead of a European Council summit on March 17-18 that will focus on the continent's worst refugee crisis since World War Two.
"The statistics over the Christmas period are not encouraging, with over 2,000 arrivals to the EU per day, according to Frontex," said Tusk.
"The March European Council will be the last moment to see if our strategy works. If it doesn't, we will face grave consequences such as the collapse of Schengen," he warned.
This week, Austria became the latest EU country and member of the Schengen area to tighten border controls.
On Wednesday (January 20), some 500 troops will be deployed at the main crossing point between Austria and Slovenia to check all migrants and their bags.
"We want these regular controls," said Austrian Chancellor Werner Faymann. "They're important because they aim to know who's coming, and they offer a chance to send back refugees who do not want to apply for asylum, and who are not willing to cooperate."
Austria has also lately been rolling out a 3.7-kilometer wire fence at its border with Slovenia, the first of its kind between two members of the Schengen area.
And Hungary said on Tuesday it stood ready to build one at its border with Romania any day if migrants switch to that route instead of going via Croatia.