Geagea strikes deal backing Aoun presidency in Lebanon
Comments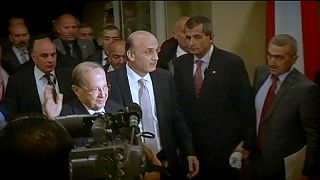 A possible end to the political deadlock at the summit of Lebanese politics may be in sight. Christian Michel Aoun's presidential candidacy has been backed by longtime sworn enemy Samir Geagea.
The move represents a unification of major Christian forces in parliament. Aoun's Free Patriotic Movement had previously supported Hezbollah.
''I hope the election process goes smoothly and once it happens I will lend my support to all Lebanese and we will not act in a malicious way," said Aoun.
Lebanon has been without a president for nearly two years, but Geagea and Aoun's rival militias shed blood in the streets 25 years ago and have had toxic relations over Syria and Israel. Coming together now is a surprise, and a major change in Lebanese politics.