'Congrats on this glorious victory!' Iran's Rouhani hails lifting of sanctions
Comments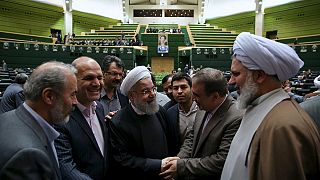 Iran's President Hassan Rouhani has taken the very 21st-century step of tweeting his congratulations to the nation following the implementation of a landmark nuclear accord and subsequent lifting of sanctions against Tehran.
#ImplementationDay--I thank God for this blessing & bow to the greatness of the patient nation of Iran. Congrats on this glorious victory!

— Hassan Rouhani (@HassanRouhani) January 16, 2016
Speaking in parliament, he welcomed the deal, which he said "opens a new gate and prepares new ground, which should be employed to bring prosperity and progress to the country."
He added:
"It (the nuclear deal) is in fact one of the golden pages of the country's history. During these negotiations, we managed to make the big powers recognise our nuclear rights."
Although the International Atomic Energy Agency (IAEA) has signed off on the deal, Israeli Prime Minister Benjamin Netanyahu claims Iran still intends to develop nuclear weapons.
Iran insists its nuclear activities only extend to power generation and medical research.
Rouhani hit out at the Jewish state and others who have spoken out about the accord.
"Everyone is happy with the agreement," he said. "Except the Zionists, warmongers, those who provoke division among Muslims and radicals in the US."
German Foreign Minister Frank Walter Steinmeier said many nations would now "be able to breathe a sigh of relief," and called the deal a "historic success for diplomacy."