Cameron: Language classes for Muslim women can help fight extremism
Comments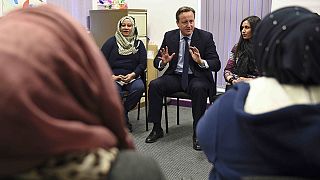 British Prime Minister David Cameron has pledged 25 million euros (20 million pounds) for English classes for women in isolated communities.
We will now say: if you don't improve your fluency, that could affect your ability to stay in the UK
Cameron said there were 190,000 British Muslim women who spoke little or no English and Britain needed to take on the "backward attitudes" of some men whom he said exerted damaging control over wives, sisters and daughters.
The British leader said while there was no direct causal link between poor English language skills and extremism, those who were not able to integrate into British society were at risk of being more susceptible to extremist ideologies.
He said: "We want to build a more integrated, cohesive, one nation society, where everyone can make the most of their talents.
"You can't have a country of opportunity if some people can't speak the language.
"In many cases it is no fault of their own, because they have been put into a situation where they are encouraged not to integrate, not to go out, not to learn the language and that's not good enough.
"That needs to change in our country and these proposals will make sure it does."
In addition to the money pledged, from October this year the government will begin testing those who have come in to Britain on a spousal visa to check if their language skills have improved.
The PM suggested that those who did not pass the test within two-and-a-half years of arriving may not be allowed to stay
"Someone can move to here with very basic English and there's no requirement to improve it over time. We will change that. We will now say: if you don't improve your fluency, that could affect your ability to stay in the UK," Cameron told the Times newspaper.
But Shaista Gohir, Chair of Muslim Women's Network UK, hit back at the British Prime Minister's plans.
"We get calls on the helpline and there are Muslim women who really want to go to college and learn English, particularly spouses from abroad, and they are stopped by in-laws and their husbands, and actually the threat of sending them back is used to try and control and silence them.
"So, if the government is saying 'well, we would punish women for not learning', that's actually re-victimising them
Cameron was also criticised by the Ramadan Foundation, which said the PM was using British Muslims as a "political football" to score cheap points.